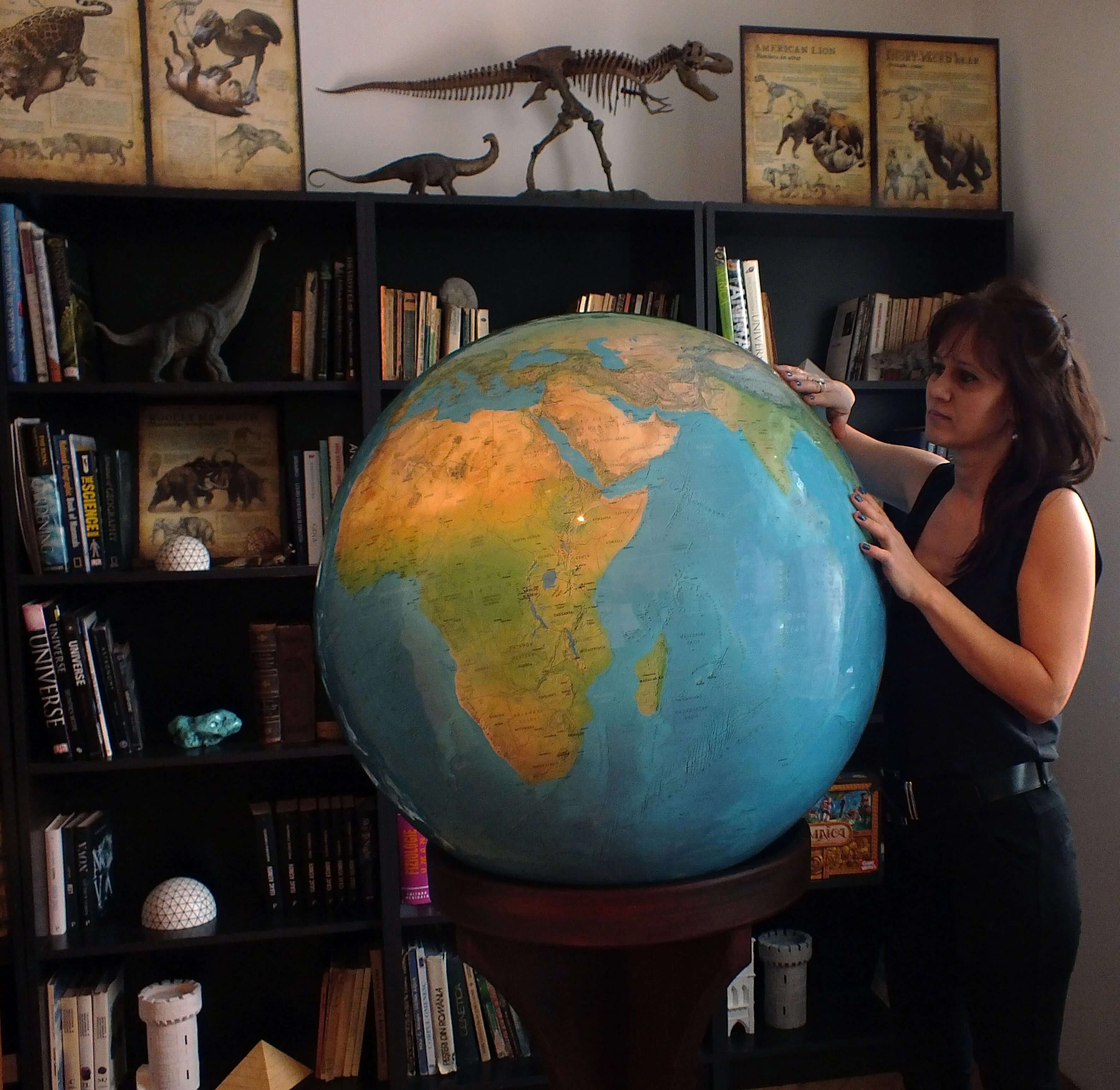 Personalized Artwork
Large World Globes
Large World Globe collection
80cm (31,5") Large World Globes
PLANET BUILDERS
Bespoke Handmade Globes
Creating some of the most beautiful
and unique Large Globes in the World
We are a team of passionate artists and cartographers. Our goal is to craft the most detailed and visually stunning large world globes that will intrigue and inspire curiosity about our fascinating planet.
Personalization options include custom map and stand designs, tailored to meet the specific requirements of our clients.
All of our globes are handmade and creating just one can take between 3 and 6 months.
One of the best feedback we ever got :
"I think that having a globe in a child's room is one of the most wonderful things that a parent can do for the child aside from teaching them to read!"
The most detailed and accurate Globes
Our unique large world globes are made by expert cartographers and skilled artists
the most vibrant and colorful globes
Due to the natural pigments we use, our globes come to life with natural environmental colors that are unprecedented
Personalized Large World Globes
You can customize your large world globe and pedestal based upon your
style and preferences!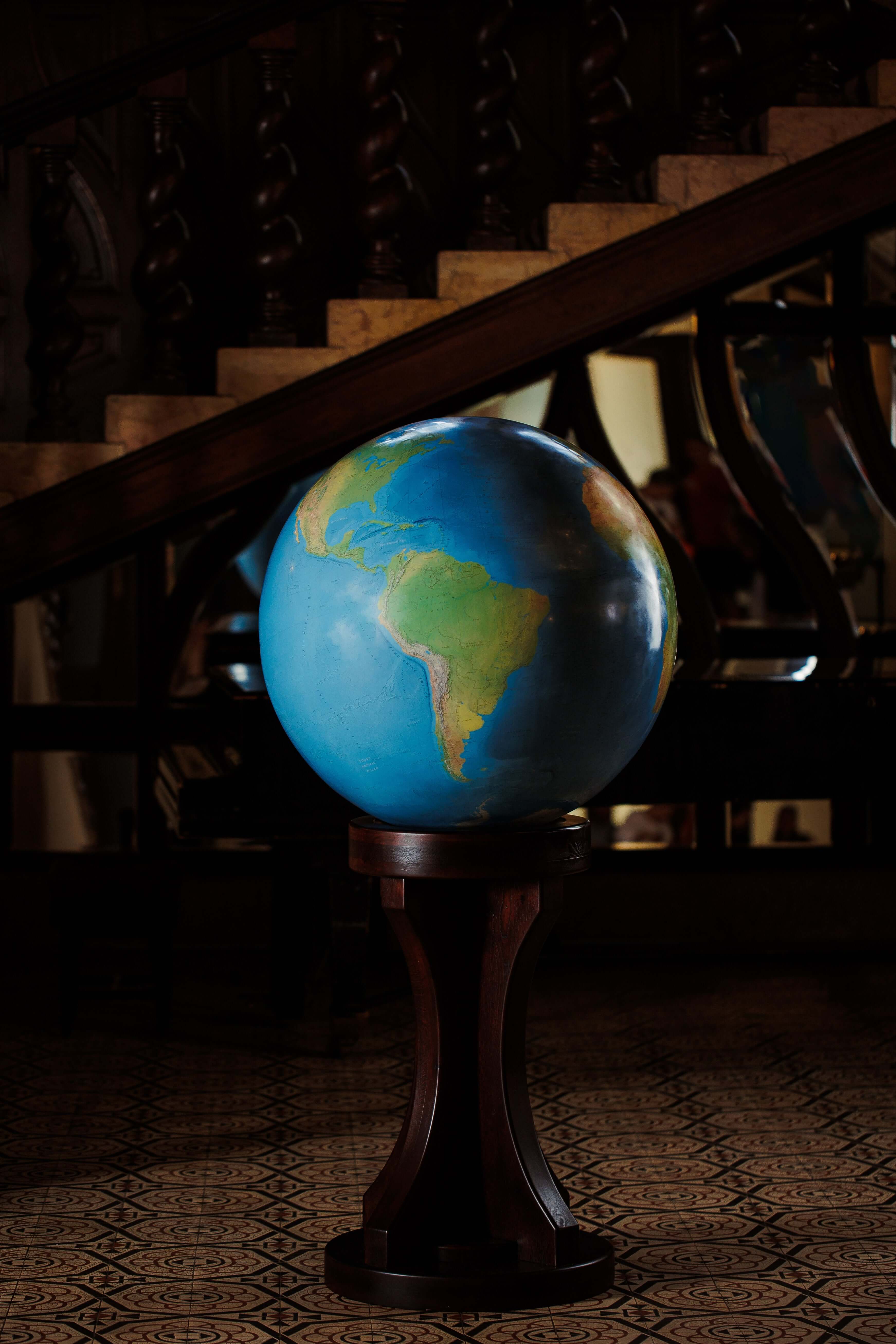 Bespoke Large World Globes
With us, you have the freedom to choose from a wide variety of styles and colors for both the globe and pedestal. We can also add custom locations to your globe, such as your favorite vacation spots or dream destinations. Plus, if you're looking for a pedestal that perfectly matches your current furniture, we can even design one just for you!
Beyond being scientific tools, our large world globes are windows to imagination. They inspire curiosity about history, exploration, and the endless possibilities of future adventures. They encourage us to dream big and explore the world in new ways.
Using the latest 3D topography and detailed satellite imagery, our globes are handcrafted with natural environment colors and thousands of labels, making them a one-of-a-kind artwork.
Globes evoke a deep emotional connection with the places we've been and the memories we've made. They serve as a constant reminder of our travels, adventures, and happy moments, enriching our lives and being a source of inspiration and happiness.
Reach out to us today at office@largeglobes.com to learn more about our custom options and create the globe of your dreams!
Historical Globe
The Time-Traveler's Globe
A gateway to the past, a testament to human exploration, and a tribute to the indomitable spirit of discovery. Step into a realm where continents are stitched together by the threads of history, and let this extraordinary globe transport you on an unforgettable journey through the ages.
NASA Satellite imagery Accurate Planet
The Red Planet - Mars Globe
The globe captures the rugged terrain of the Martian landscape with intricate details, from its towering Olympus Mons, the largest volcano in the solar system, to its massive Valles Marineris, a canyon system that dwarfs even the Grand Canyon on Earth.
80cm Diameter Globe
The Blue Planet Globe
A breath-taking view of the Earth. With detailed 3D topography and thousands of labels, our unique handmade globes will arouse anyone's curiosity to discover more about our fascinating blue planet.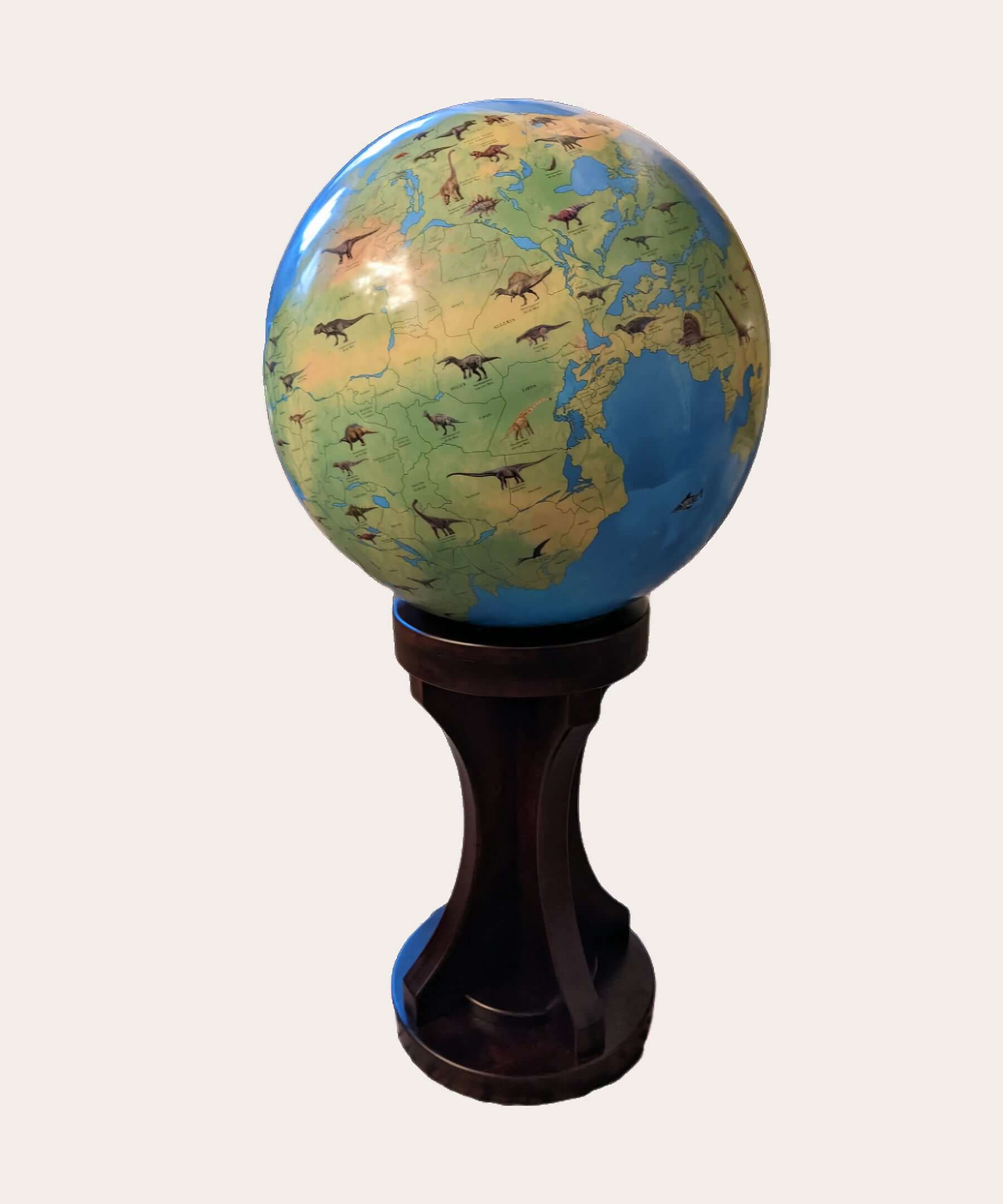 Earth 200 million years ago
Pangea - The Dinosaur Planet
The supercontinent Pangea with modern day border approximations and the most iconic prehistoric animals based on their fossil discovery locations.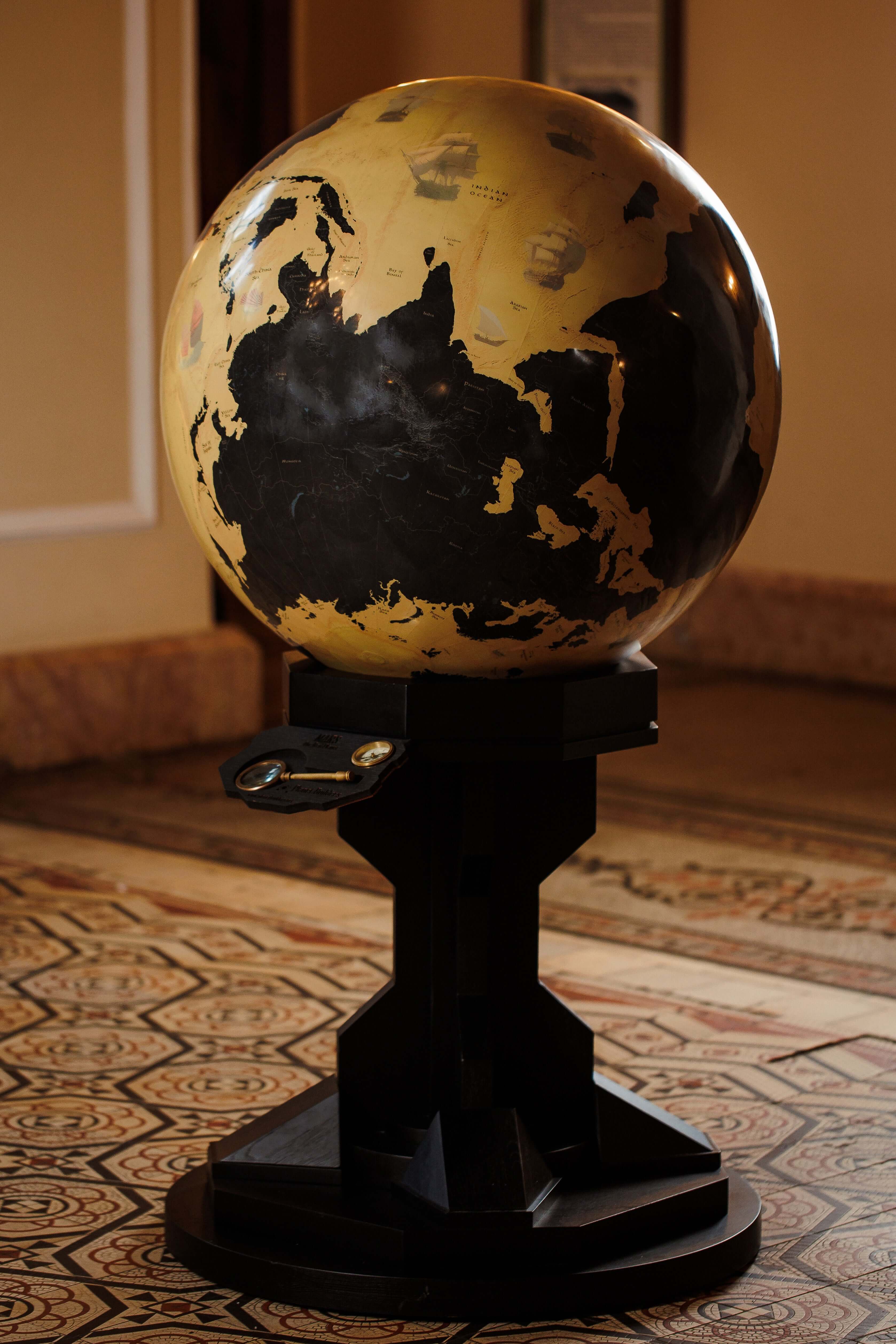 Upside-down Earth
The Explorer's Globe
A captivating masterpiece that invites you to embark on a voyage of discovery.
Terra
Ultra-realistic Large World Globe
Both a geographical and a political world globe with extremally detailed satellite imagery.
"Not just a globe but a piece of artwork.
We love the look and feel of the globe and how easily it spins. Thank you Remus for this marvelous globe of our planet Earth."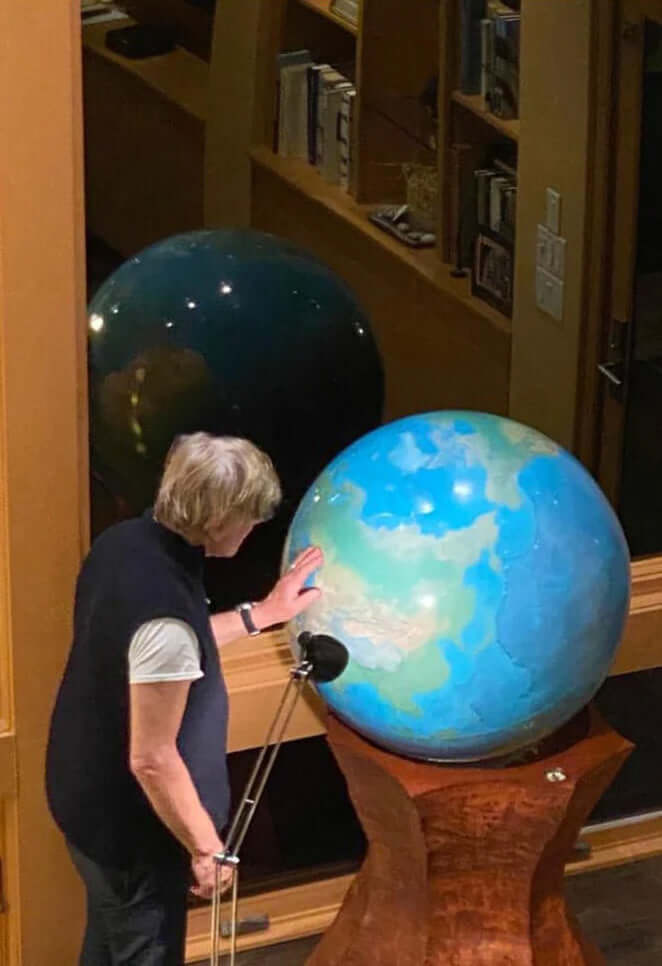 Tanja and Andreas
Unprecedented level of detail with Satellite imagery accuracy
Some of the most detailed globes in the world
Each globe is meticulously crafted by skilled artisans who take great pride in their work. We use premium materials, ensuring that every globe is not only aesthetically pleasing but also durable and long-lasting.
Our globes are designed with an extraordinary level of detail, capturing the intricacies of the world's geography. The accuracy and precision involved in creating these globes are unmatched, making them a true work of art.
From the highest peaks of the Himalayas to the depths of the Mariana Trench, no detail is left untouched. Cities and towns are accurately placed and labeled, providing a comprehensive understanding of the world's political and cultural landscape. And with the latest data on climate change and environmental issues, these globes are not just a beautiful representation of the world, but also a valuable educational tool.
But it's not just the physical features that make these globes stand out. The cartography is also of the highest quality, with a color palette carefully chosen to highlight the natural beauty of our planet and the diversity of its ecosystems.
The price of our handmade large world globes reflects not only the materials and craftsmanship but also the intangible value they bring into our lives. They are cherished keepsakes that spark joy, curiosity, and a sense of wonderment that lasts for generations. We believe that investing in one of our globes is an investment in both a beautiful piece of art and a lifelong source of inspiration and happiness.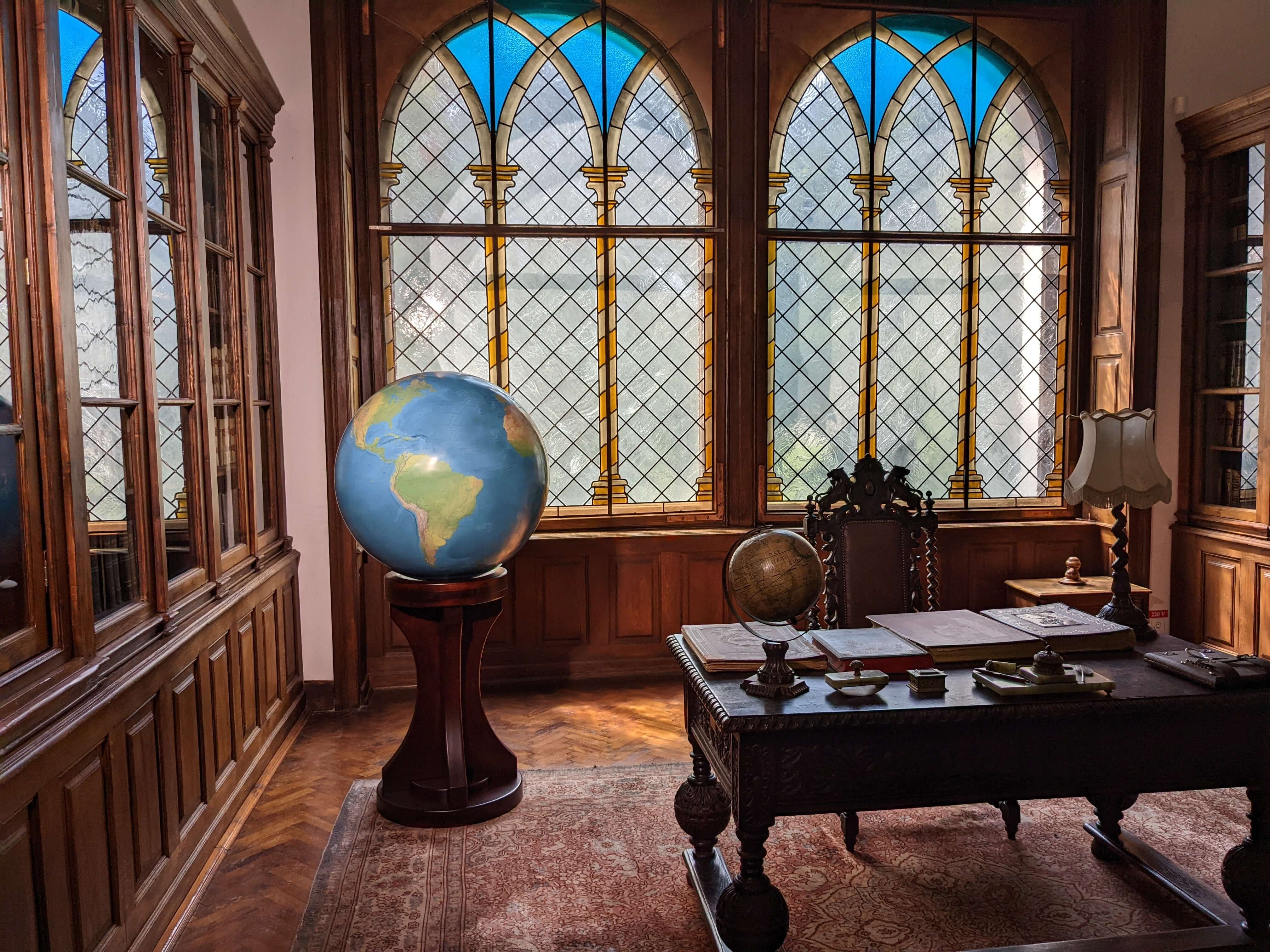 Creating Art that will last a lifetime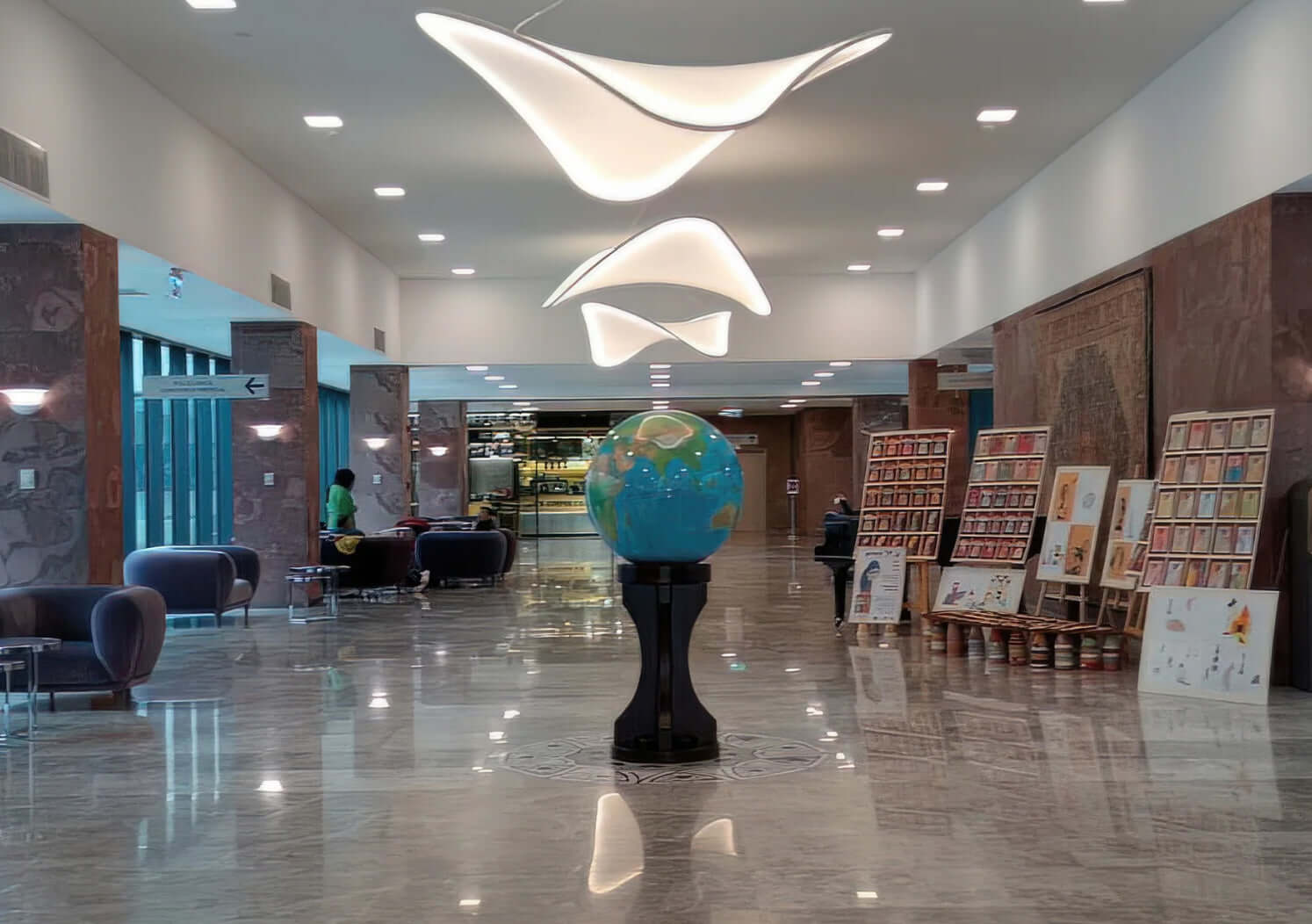 Our globe in a state-of-the-art private hospital Enayati Medical City
Some of our other famous clients include the biggest names in the world like Dwayne The Rock Johnson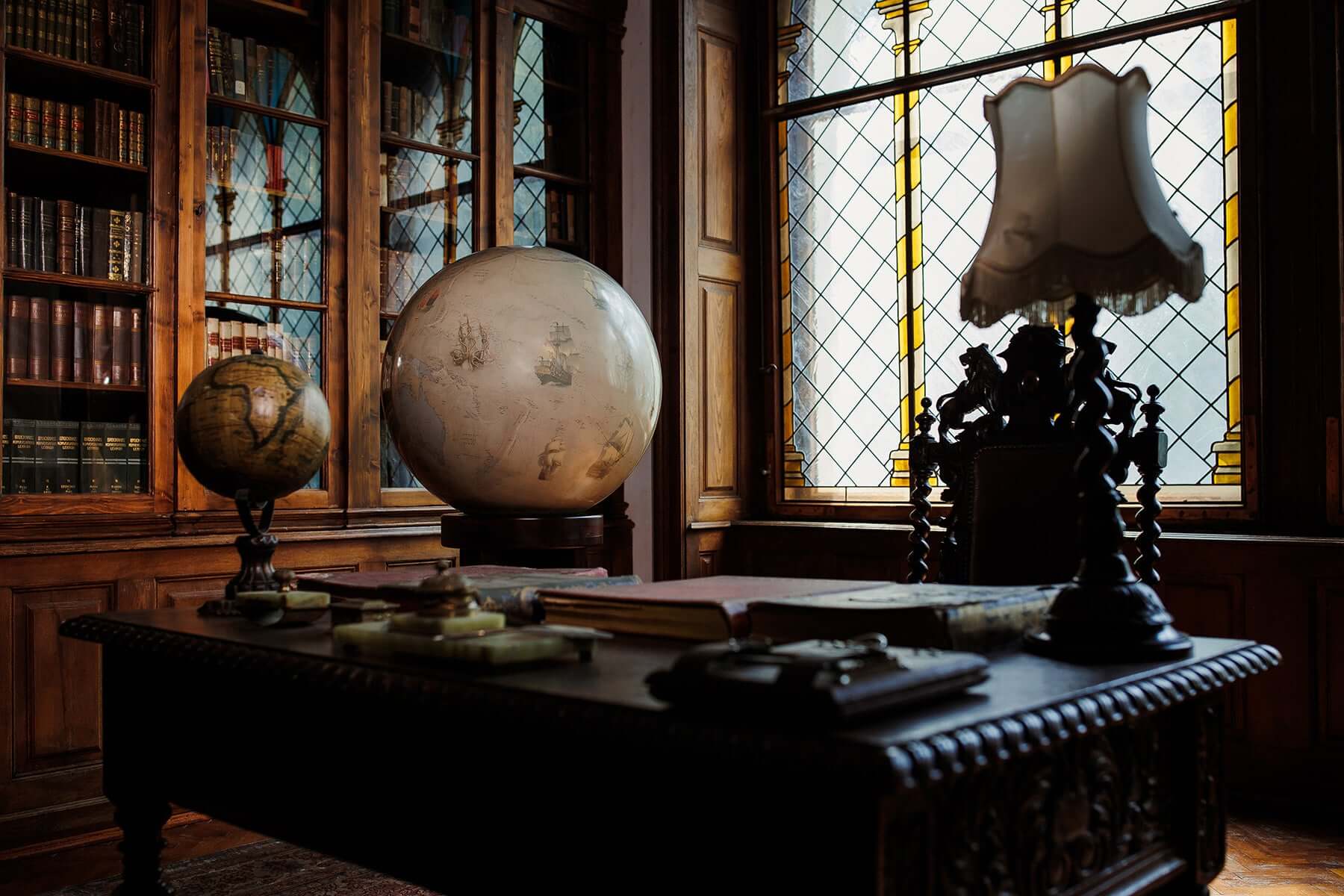 Fantasy globes that will ignite your imagination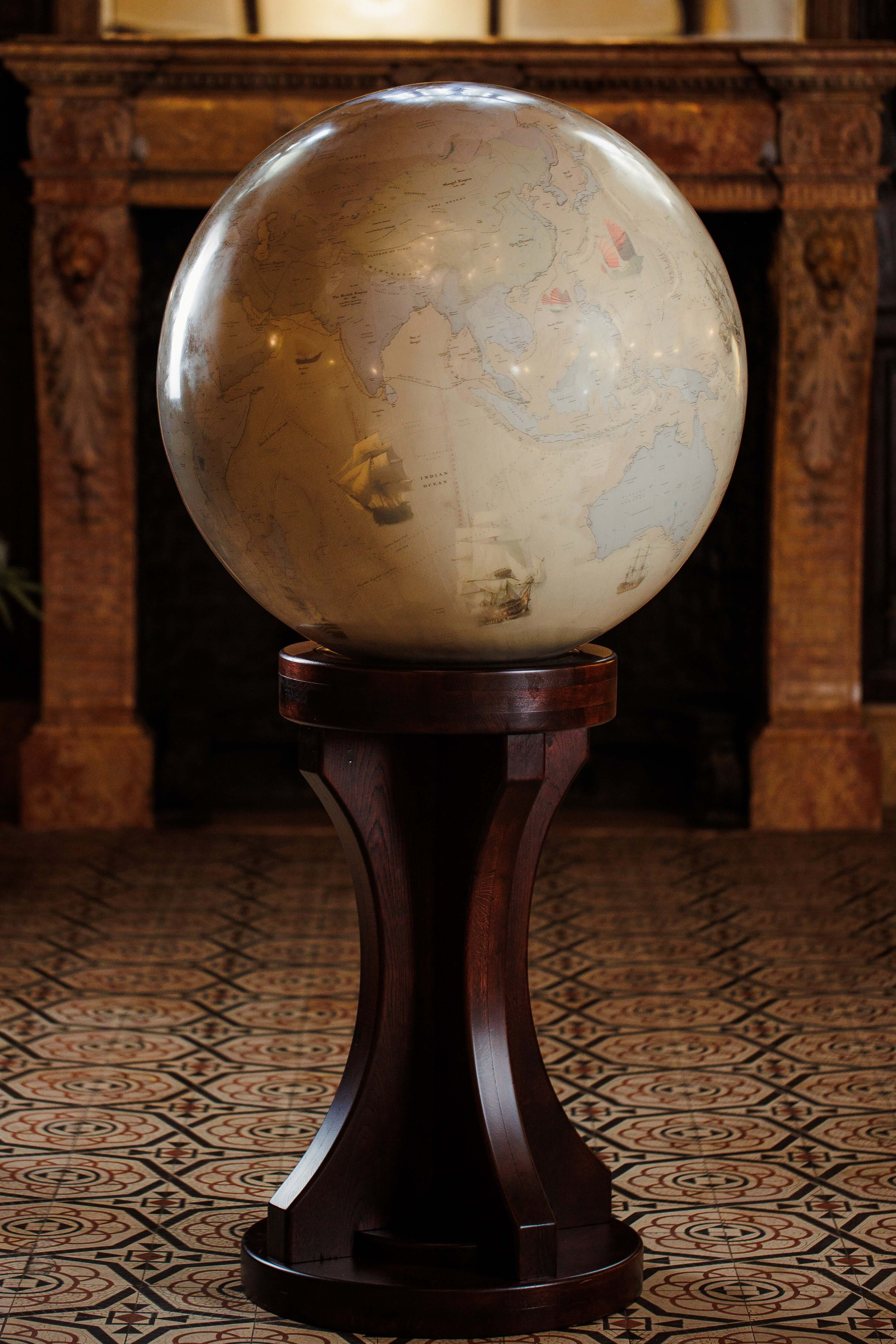 One of the greatest quotes on a globe
"Do you know why a ship floats and a stone cannot? Because the stone sees only downward. The darkness of the water is vast and irresistible. The ship feels the darkness as well, striving moment by moment to master her and pull her under. But the ship has a secret. For unlike the stone, her gaze is not downward but up. Fixed upon the light that guides her, whispering of grander things than darkness ever knew."

ALSO HELPING A GOOD CAUSE
OUR CAT SHELTER IN ROMANIA
By purchasing a globe, you're also helping our cat rescue sanctuary where we help abandoned and homeless animals.